You can create a brand new domain and let MyPhotoApp host your websites or apps.   This is great for branding your new site or creating mini web sites that can be the start of your marketing sales funnel or for a specific domain to host your apps.  It has never been easier to get a vanity URL up and running.   Here are the steps:
(1) Go to your domain provider and purchase your new domain. I use GoDaddy.com.  I will use the domain, xxx.com in my example below.
(2) Once you purchase the domain, go into the domain settings and edit your DNS Zone file and change the @ record so it points to 198.58.122.179 .   Here is an example of what it should look like.  This screen shot is from GoDaddy.   It seems like all Domain providers present the information a little bit differently.   If this is a brand new domain and you don't have a @ record, you may need to park your domain first. 
Once you have saved this, your website (http://xxx.com) should be pointing to the MyPhotoApp server. 
If you also want http://www.xxx.com to work, you will need to setup a cname record like this:

(3)  Go to the MyPhotoApp builder,  http://builder.mp-app.com, and login.   Click on the setup tab and then the Add New Brand tab to create a new brand to host your website.  You can give it any name that makes sense to you, but usually people select their domain name.  Since my website is http://xxx.com, I will enter xxx.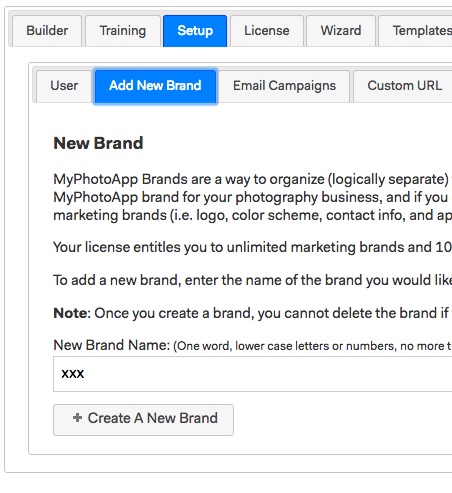 (4) Next select you new brand in the brand drop down:
(5) Select the setup tab and then the custom URL tab.  Ignore Step 1.  In Step 2, enter the complete URL for your new brand as shown below, in step 3 select a TYPE 2 domain, and then click  the "verify and save custom URL".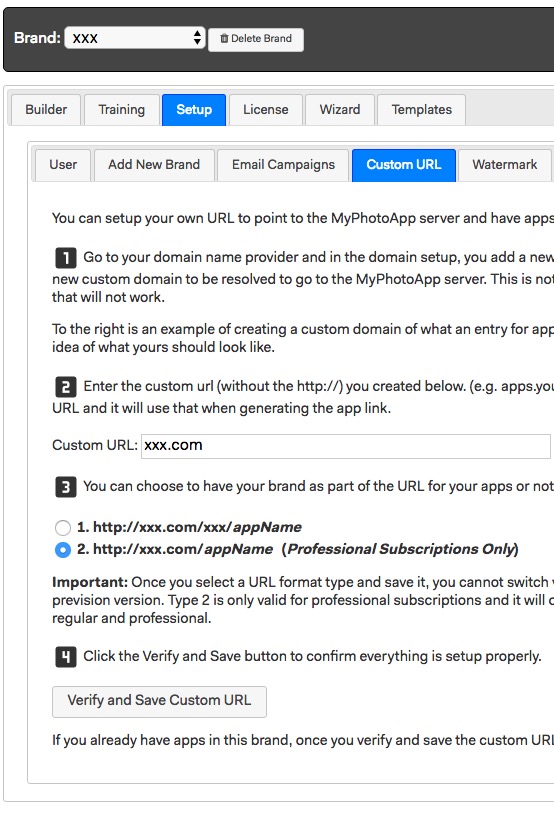 If you get an error message that said it wasn't setup correctly, please wait up to 30 minutes and try again. It takes a while for the new Domain Name to propagate across the internet.  
(6) Go to the builder tab and create an app called index .  This is the default app so that when people go to http://xxx.com they will be displayed the index app.     If you create an app by any other name, like aaa, then the URL for that app will be http://xxx.com/aaa .
(7) If you also setup a www record, open a support ticket and ask that your www.xxx.com record be activated.