Promote MyPhotoApp and Earn Commission

Thank you for being a MyPhotoApp member! Jim would love to reward you for spreading the word about how much you love MyPhotoApp with others and for every new MyPhotoApp subscription generated using your referral ID you will earn $50 commission.



And whats more when someone subscribes to MyPhotoApp for the first time using your referral ID they will benefit from up to 20% discount on their subscription depending on what level they choose. You in return will receive a $50 credit added to your account. You both get rewarded so time to get sharing!



There are 2 ways to share your Referral ID and earn $50 commision:


1. Share Your Brand ID

This is a great way to quickly share your referral ID with friends or in person. You will also need to tell them how to use your Referral ID in a few easy steps:



1. Share your Brand ID with your friends & colleagues.



Tell them to:



3. Click on the license tab and enter your brand ID in the referral code field when they are ready to subscribe.



You can find your Brand in the upper right-hand corner of the builder screen next to the word brand. The brand ID to share in this screen capture is demo.




TIP: If you have more than 1 brand you can choose whichever you want to share so pick the easiest one for people to remember.



The Following Applies:


They must use your referral code when they subscribe in order for you to receive a referral credit.
There is no retro credit for anyone forgetting to use your referral code at the time of purchase.
2. Share Your Unique Referral Link

Another way to start the referral process is to share your unique Referral Link that new people can use to sign up. This is a great way to share your Referral ID online and on social media like Facebook. When people click the link it takes them straight to a MyPhotoApp sign up page making it really easy for people to use as no further instructions are needed!



As a bonus when they sign up for a free trial using your Referral Link they will get 14 days instead of the regular 7 days, that's double the time to help them decide to subscribe to MyPhotoApp and a better chance of your getting rewarded when they do.



Best of all when they sign up using your unique Referral Link, MyPhotoApp will remember YOU sent them and when they go to purchase a subscription, your brand ID will automatically be filled in on the referral code field so you don't have to rely on them remembering what it was and using it!



Here is a link to the new Referral Link Generator to get yours now: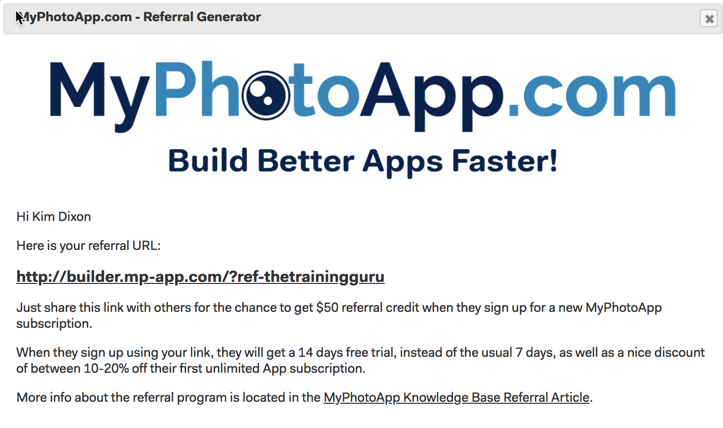 You can also find the Referral Generator link on the Training tab in the MyPhotoApp Builder so any time you want to share your Referral Link just click on it to see your link and copy it. You could also save it somewhere handy on your mobile device like in notes or reminders so you always have it ready to share.



Once you have your unique Referral Link simply share it to promote MyPhotoApp and start earning more commission with no fuss or complicated instruction needed.



Here are some ideas on different ways you can share your Referral Link:


On Social Media
In Facebook Groups (where permitted)
On your Web page
In your Business Apps
In a landing page App
By Email
In an Email Newsletter B2B
At a Networking event
At a Training Event, you are running

Let us know if you think of other ways to share your Referral Link.



Whichever method people use to purchase a new MyPhotoApp subscription you will be notified by email instantly whenever your Referral ID is used.


How Can I Check & Use My Commission?

Your current commission credit amount is listed on the License Tab in the Green box at the top.



Here's a break down of how you can use or receive your commision:


You can use your commission credit to pay for up to 80% of an annual renewal subscription amount.
If you are on an annual subscription plan, and your unused credit exceeds $250 in December, the excess will be paid directly to you via PayPal by the end of December.
If you are on a monthly subscription plan and have been so for at least 6 months, any credit you have on your account will be paid directly to you via PayPal in December of each year. You will always receive the full amount of credit as there is no option to offset the credit against future monthly payments.
The Following Applies
You must have an active account to receive a commision payment.
If you cancel your MyPhotoApp subscription any Commission Credit showing in your account will expire when your account expires.
Renewing your membership later will not reinstate any lost commission credit.
If your referral subscribes and later asks for a refund, your commission credit will be reversed.

keywords: referal code affiliate promote afiliate referral program account credits referall